Company Instruction:
Sunicorn headquarter is located in Shenzhen city, production and R&D team is located in Shenzhen city and Kunming city in Yunnan province.Our main products include all kinds of vacuum cooler, cold storage room,ice maker etc.
Company in the production of vacuum pre cooling equipment, large cold storage, refrigeration equipment has been successfully applied in 12 provinces of China and other professional engaged in the preservation of circulation and food processing industry, a well-known enterprises, and has exported to Malaysia, Singapore, Thailand, the United States, Mexico, Eastern Europe and other places.And in the United States, California, Florida and other places set up a firm and after-sales service center. At any time to provide users with convenient and efficient technical advice, maintenance and domestic and foreign parts supply.

Vacuum Cooling Machine Instruction :
Vacuum cooling is a rapid type of pre-cooling, which also helps preserve vegetables by putting them in an almost complete vacuum. The field heat and heat from the vegetables' biological processes are used as water changes to vapor and the vegetables become increasingly cooler. Vacuum cooling helps keep vegetables in good marketable condition while in storage. The most rapid deterioration in quality of produce occurs soon after harvest, so the quicker the produce is vacuum cooled, the longer it will retain its initial quality. Produce can be vacuum cooled just as readily when packaged. The container does not effect the vacuum cooling, as long as the container is not completely sealed. Most lettuce is now vacuum cooled, and almost any vegetable can be vacuum cooled.

1.Cooling speed. Generally only 20-30 minutes can achieve the required storage at low temperature. The conventional method of cooling is generally 48 to 12 hours, which can eliminate the "field" of agricultural products in the first time, and the effect of this field on the preservation of agricultural products is fatal.
2.It can make the fresh agricultural products from the inside to the outside of the rapid cooling, cooling temperature uniformity
3.After vacuum treatment of fruits and vegetables, clean, sanitary, inhibit bacteria, eliminate harmful insects and biological, greatly reduce the decay rate of long time, high market sales price.
4.Wash off with water or rain harvesting the fruits and vegetables can also be dealt with promptly to avoid the fruit and vegetable heat phenomenon can also remove surface moisture is conducive to the preservation.
5.After vacuum preservation of fruits and vegetables to maintain the original color, aroma, taste and nutrients, to prevent dehydration of fruits and vegetables in the cooling process, and reduce the impact of ethylene on fruits and vegetables.
6.This technique can also be used in meat, poultry, aquatic products and food preservation, extremely suitable for fresh leafy, high-grade fruit and other fresh fruits and vegetables fresh-keeping treatment.


Vacuum Cooler Appication




Sunicorn Technolgy Product Model: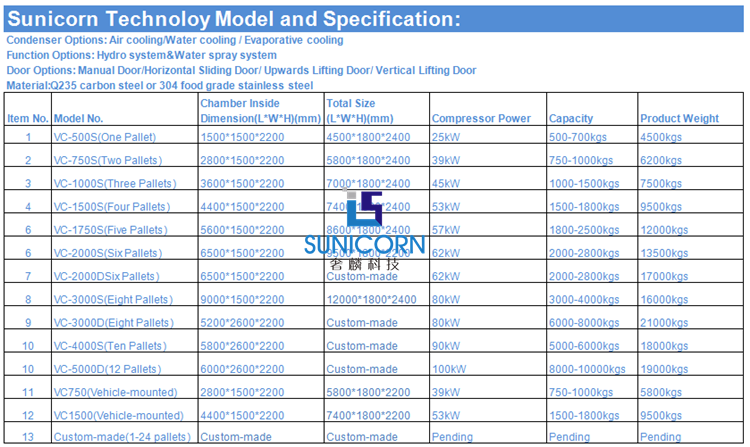 Component Brand:


Case Show


Factory Site: